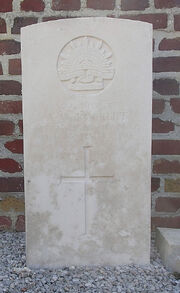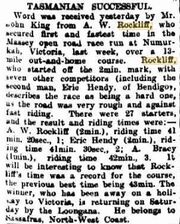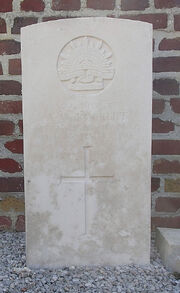 Biography
[
]
Source: The North Western Advocate 7th October 1918.
Born 15th October 1889 Sassafras Tasmania to Frederick and Mary Amelia Rockliff (nee Pickett) a motor driver he departed Sydney 9th May 1917 on board "HMAT Ulysses" with the 2nd Machine Gun Company.
He was serving with the 4th Machine Gun Company when he was killed in action 18th September 1918 and is commemorated in the Le Verguier Churchyard, France.
Word has been received at Latrobe that Pte. A. W. (Walter) Rockliff, youngest son of the late Mr. Fred. Rockliff was killed in action in France on September 18; the news was convoyed to his brother Mr. O. Rockliff by the Rev. V. G. Britton. General regret is expressed at Pte Rockliff's death. He was one of the most popular young men of the district. Prior to enlisting some two years ago he was employed by Mr. Duncan Loane at Devonport. A fine athlete Pte Rockliff was well known in the football field and for a number of years was a prominent member of the Latrobe Club. He was also a racing cyclist, and rode with success at several Latrobe carnivals. A brother and three sisters are left to mourn their loss.
Results
[
]
1907
[
]
02-11-1907: 1°(and fastest time) in 13-miles handicap road race, Numurkah (Massey open road race)
1908
[
]
26-09 1908: 3° handicap road race, Devonport – Wesley Vale – Devonport
1909
[
]
01-01-1909: 1° in 4th run of ½-mile handicap race (Flying handicap), Scottsdale
01-01-1909: 1° in final of ½-mile handicap race (Flying handicap), Scottsdale
01-01-1909: 2° in 4th run of 1-mile handicap race (Scottsdale Wheel Race, Scottsdale
01-01-1909: 2° in final of 1-mile handicap race (Scottsdale Wheel Race, Scottsdale
22-11-1909: 2° handicap road race, Sassafras
06-12-1909: 3° handicap road race, Sassafras
25-12-1909: 1° in 1st run of 1-mile handicap race (Juno Cup), Longford
28-12-1909: 2° in 1st run of ½- mile handicap race, Campbell Town
28-12-1909: 3° in final of ½-mile handicap race, Campbell Town
1912
[
]
16-03-1912: 1° in 3th run of 1-mile handicap race (Lyric Wheel race), Sydney, Sports Ground *
16-03-1912: 1° in final of 1-mile handicap race (Lyric Wheel race), Sydney, Sports Ground *
[*Attention with results, because his brother Arthur Frederick William Rockliff raced even with bigger success (A.F.W. in results). To make even more complicated there was also a "W. Rockliff" (meaby his usily forename).]
Sources
[
]