Ben Ogle (1892-1970)
[
]

Joseph Benjamin OGLE, Gunner 9130
Source
[
]
Fighting the Kaiser - http://fightingthekaiser.blogspot.com/2019/11/coburg-cyclists-ben-ogle-and-jim.html
Coburg cyclists Ben Ogle and Jim O'Farrell and the war

[

]
This story began with the photo you see here of 6273 Private James Patrick O'Farrell, 22nd Infantry Battalion.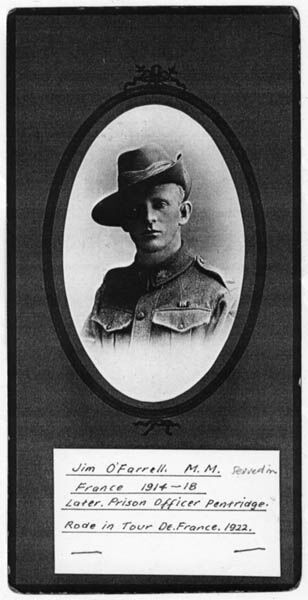 I was interested because the label that has been added to this image by a long-ago volunteer at Coburg Historical Society claims that Jim O'Farrell rode in the Tour de France in 1922.
So I set out to find out more ...
Jim O'Farrell was the son of warder Patrick O'Farrell who lived in Champ Street, Coburg, right next to his workplace, Pentridge Prison. He was a talented cyclist and member of the Coburg Cycling Club.
In 1916 Jim tried a number of times to pass the medical to join the AIF but was rejected on account of his eyesight. After 11 months of home service, he was accepted finally and in November 1916 embarked for the Front on HMAT A20 Hororota. He served in France from September 1917 and was awarded the Military Medal a year later.
After the war Jim remained with the Graves Department in London until his return to Australia in September 1919.
I now went off on my search for Jim O'Farrell, Tour de France participant. The Tour de France began in 1914, but of course it fell into abeyance for the duration of the war. The race resumed in 1919, so I began my search on a website that lists all the participants from 1914 to the present day. No Jim O'Farrell. The first Australians competed in 1928, including Coburg man Ernest Bainbridge, but Jim O'Farrell was nowhere to be found.

So I went back to look through newspaper articles on TROVE and what I found were a number of references in September 1922 to two Coburg cyclists Ben Ogle and Jim O'Farrell returning from France.
The article that accompanied these photographs tells us that the two riders had enjoyed their six months in France, that they cycled with the Alcyon Company and rode in the Paris-Tours and the Paris-Brussels races but had little success. It seems, then, that the Historical Society member who wrote the labels for several of the Society's photos featuring Jim O'Farrell misinterpreted the information he'd been given and the Paris-Tours race (from Paris to the city of Tours in the west of France) became the Tour de France. How easily history can be altered by a simple misunderstanding!
Both cyclists were ex-servicemen (9130 Gunner Joseph Benjamin Ogle, a 23 year old saddler from O'Hea's Road, Coburg, embarked on 16 November 1915 per HMAT A39  Port Macquarie. He was in 2 Divisional Ammunition Column. He served mostly in Egypt and returned to Australia in August 1919) and both were eager to get back to riding once the war was over. So in February 1922 they headed for Europe. Destination France.
France must have seemed like a huge adventure, but it must also have been quite strange and more than a little confronting to return to the area where a little over three years earlier deadly warfare had devastated large parts of Europe.
As well as competitive cycling in France, Ogle and O'Farrell holidayed in Germany 'where they were both treated extremely well, and formed a high opinion of the calibre of the German cyclists...' The journalist who wrote this article continued 'Both O'Farrell and Ogle are "diggers" and saw much of the country over which they fought not long before. That they both enjoyed their trip is certain, but Ben Ogle summed up their feelings when he said as he landed ... "Australia will do me every time."' (Sporting Globe, 9 September 1922)
On their return, Jim O'Farrell joined the staff of Pentridge Prison and worked as a warder, just as his father had done. He married in 1928 but his wife Ada died the following year. Later, in 1944, he married again. There were no children from either marriage. His second wife Juanita died in 1967. Jim died in 1974 aged 83.

Ben Ogle continued to ride for another decade and the press often used the description 'international rider' when writing about him. He married a Coburg girl, Cecily Thickins, in 1926. They remained in Coburg where he worked for the Coburg Council until the late 1930s then moved to Tallangatta in Victoria's north where he worked as Avon Shire Secretary. In the 1950s he was Assistant Shire Secretary at Geelong West and his final appointment was in the 1960s as Bet Bet Shire Secretary. He died at Maryborough in 1970 aged 77.
Results
[
]
1912
[
]
16-11-1912: 60° Barnet Glass Road Race
1919
[
]
06-09-1919: 16° Barnet Glass Road Race
1920
[
]
04-09-1920: 10° Barnet Glass Road Race
18-09-1920: 5° Goulburn - Sydney
1922
[
]
30-04-1922: 47° Paris - Tours
25-06-1922: did not start Tour de France
14-10-1922: 47° Warrnambool - Melbourne
1923
[
]
27-10-1923: 47° Warrnambool - Melbourne
1924
[
]
11-10-1924: 11° Warrnambool - Melbourne
1925
[
]
10-10-1925: 5° Warrnambool - Melbourne
Additinal Sources
[
]